The Community of Polish Missionary Sisters who are based in Santo Domingo received very happily their Lady and Queen, the Virgin of Czestochowa. The Icon was there from May 1 to 5 in the community chapel, where four sisters are currently living: one from Ecuador and three from Poland.
This year, the Missionary Benedictine Sisters enjoy several spiritual occasions to give thanks to God. On April 30, one day before the Icon arrived in this community, at a very solemn Eucharist celebrated by Bishop Bertram Wick and in the presence of Mother General Marcelina Kusmierz and Sister Vicariate Bozena Lubiarz from Poland, three Polish sisters celebrated their silver anniversary of religious life and began celebrating the 100 years of the founding of the Congregation of the Missionary Benedictine Sisters.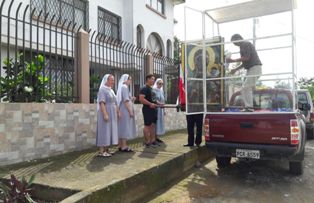 While the Virgin was in the convent, the sisters -with great devotion offered their prayers putting their lives for the mission in Ecuador at the hands of Our Lady in Her Icon of Czestochowa. During those days, the sisters gathered in the chapel to pray the liturgy of the hours, the holy rosary and celebrate mass. The young people of the parish of Juan Eulogio accompanied them in the prayers.
The Missionary Benedictine Sisters lead a life full of prayer, spirit of sacrifice and love to each person. The congregation came to Ecuador in 1995, invited by Father Leon Juchniewicz, parish priest of Our Lady of the Assumption, from the Diocese of Santo Domingo. Since their arrival they were immersed in the pastoral work through the catechesis, infancy missionary work, music, leading a choir, attending to the young and old.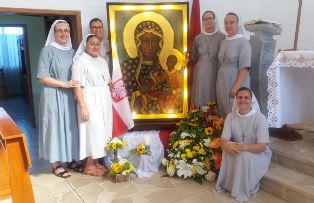 Seeing the necessity, they opened a "medicine chest" with sale of medicine at low price and giving medical care. In the parish they have a nursery for children from the poorest households in the community. In addition, they coordinate a scholarship project for 70 children with the help of Polish benefactors. Since 2011 the Sisters run a shelter center for 40 girls and adolescents.
Our Lady of Czestochowa, we ask you to intercede for the Missionary Benedictine Sisters in this special year so they may fulfill the words of Jesus: "Go and proclaim the Gospel", and to share with happiness of the encounter with the Savior.